Dr. Ashley Isbell Goforth
My dream of becoming a veterinarian began at a very young age when a fellow student's dad came to career day to discuss his life as a veterinarian. Ever since that day, my life revolved around completing everything needed to get into the University of Georgia, College of Veterinary Medicine and becoming a successful veterinarian. Because of how the one veterinarian influenced my life, I pay it forward by inspiring elementary school children to enter into the veterinary profession.
I'm a good ole Clover girl, graduating from Clover High School almost 20 years ago. I then majored in Animal Science/Pre-Vet at Clemson University (Go Tigers!) graduating in Dec 2006. I graduated from the University of Georgia with a DVM in 2011 (Go Dawgs!). My husband is a Georgia fan, so when Clemson plays Georgia, it is a house divided!
My husband and I have 4 dogs (a Havanese, a Great Dane/Mastiff, a Labrador, and a Border Collie mix), 1 cat, and 3 horses, not to mention the 3 cats and bearded dragon at the office. Our small dog, Spud, can be seen here frequently! We have an adorable 5-year-old daughter, happy 3-year-old son, and infant son!
Personally, I am a HUGE college football fan! I love going on long trail rides, camping, kayaking, four-wheeling, boat riding, the beach, and generally just being outside. I also love seeing clients' exotic pets and wildlife. My favorite patients are raccoons and bobcats! I can treat just about anything. My mission is to provide the community with friendly affordable services, quality individualized lifelong care for all pets, and understandable education on care, prevention, and treatment options.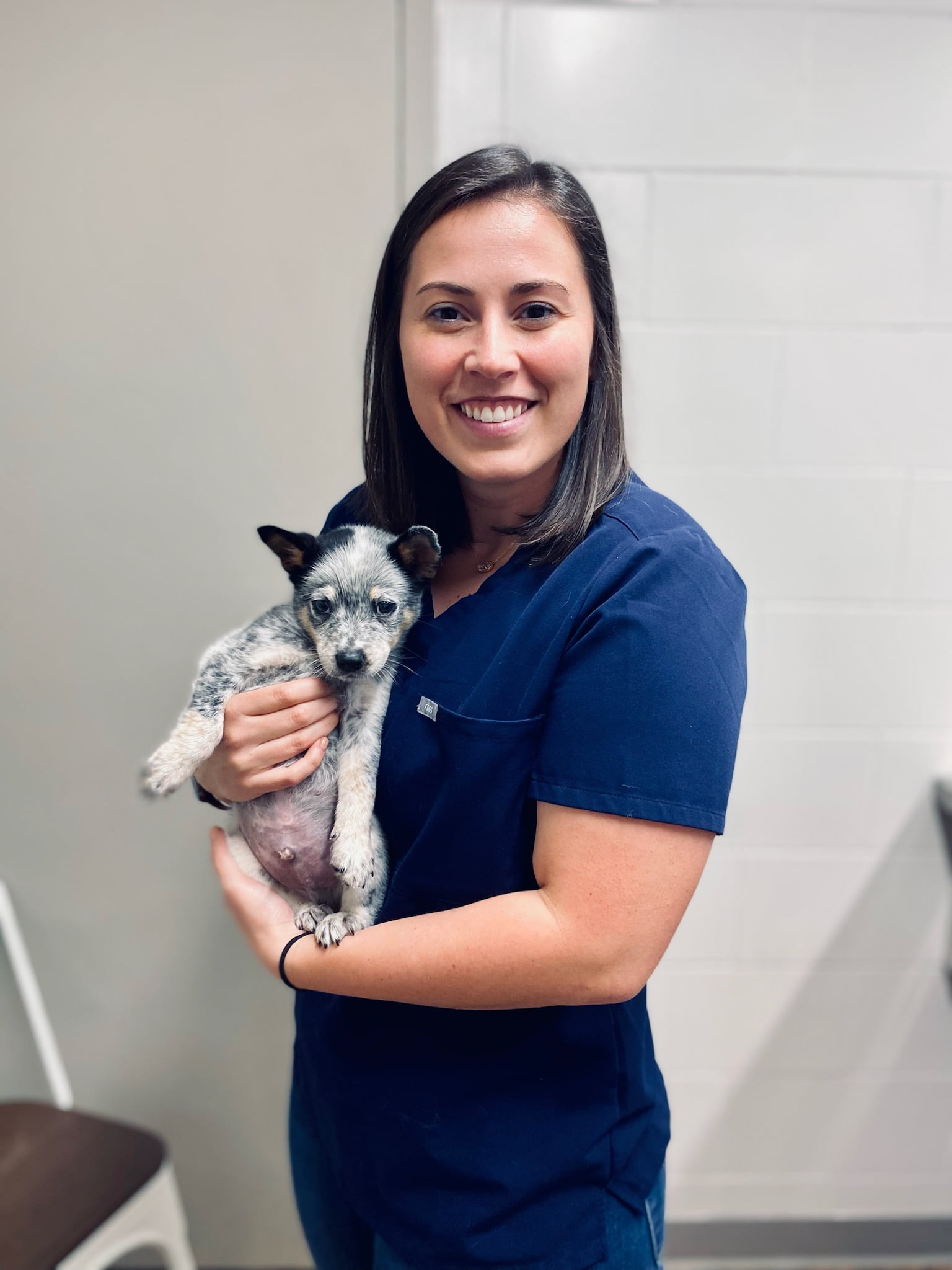 Dr. Ashley Bowser
Even as a little kid I loved all kinds of animals. Over time it became clear to me that I needed to pursue a profession in veterinary medicine. I earned an Equine Science degree from Auburn University and rode on the AU Equestrian Club Team. From there, I went on to Ross University School of Veterinary Medicine, completing my clinical year at Colorado State University. I have a special interest in equine and livestock medicine, ophthalmology, and reproduction. In my free time, I love to work out, hike, and snuggle with my island kitty, Izzy, and boxer mix, Nelly.
Amanda
Practice Manager
Hi! My name is Amanda and I am the Practice Manager here at York Vet. I graduated from York Technical College with an Associates degree in Medical Assisting in 2006. I have been in the Vet Med field for over 10 years. I came to York Vet in October of 2018 as a technician. I have always had a passion for animals of any kind! I am from Sharon, SC. I have been married to my husband, Mike, for 20 years and we have 2 adult children, Emily & Eli, and a sweet Cane Corso, Jolene. I enjoy traveling, hiking, camping, and kayaking with my family.
Katie
RVT/Surgery Technician
Hi, I'm Katie and I am so excited to be here at YVS! I went to school in Columbus, Ohio and I received my RVT license in 2012. I have worked in small animal general practice and emergency/ICU. Outside of animals, I love spending my time with my family exploring the Carolinas.
Jaime
Veterinary Technician
My name is jamie, I am originally from Sheridan Wyoming, where I developed a passion for horses growing up and working on my family's ranch. After graduating college I spent years in the equine medical field, and managed a Equine breeding facility for several years. In my spare time I love riding my horses, spending time with friends and family and exploring the outdoors.
Ashley
Veterinary Technician
Hi, I'm Ashley!  I have been a technician for over 15 years and I enjoy working with animals to ensure they are healthy and happy!
Aidan
CSR/Technician
I am very friendly and knowledgeable. I enjoy all animals!
Erin
Veterinary Technician
Hi my name is Erin! I love UGA football, Italian food, chocolate, my husband, and my three kids (not in that order). I also have two fur kids, Biscuit the big dog and Fluffy the fat cat, that keep our lives interesting! I'm excited to be part of the team here at York Vet and I love seeing your fur babies!
Emily
Veterinary Technician
My name is Emily Owens, I am from Sharon, SC. My boyfriend, Jamie, and I enjoy camping, horseback riding, and spending time on the lake. I have a 6-year-old Quarter Horse, Gus, and a sassy Blue Heeler, Taz. I love all animals and look forward to meeting your furbabies!
Sue
CSR
I moved to South Carolina from New York in July of 2022. I have been a veterinary receptionist for over 23 years and I love my job! I have a wonderful husband and 3 children, 1 cat, 2 dogs, 2 rats, and a hedgehog. I enjoy spending time with my family! I like to hike, fish, kayak, and travel the outdoors!
Bailey
CSR
I have a wealth of knowledge about livestock and am always eager to learn more about small animals! In my free time, I enjoy training horses and spending time with my two beloved dogs, Jessabelle and Pepper.
Orie
Boarding Manager
Bio coming soon!
Vicky
Kennel Technician
Bio coming soon!